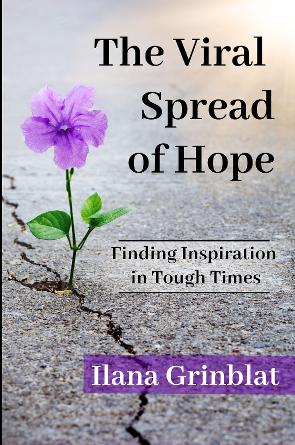 What People are Saying:
Testimonials for The Viral Spread of Hope:
"The Viral Spread of Hope is extremely timely, and exactly what we need for this tumultuous period in our country and in our world. Rabbi Ilana's words are engaging and comforting; a joy to read and to share with others! Her explanations of Jewish terminology and interpretation of Biblical passages is perfect for Christians and other non-Jewish people of faith."
– Reverend Dr. Kerry L. Cheesman, Capital University, Former Pastor, University Baptist Church, Columbus, OH, Past President, Indiana Baptist Association (ABCUSA)
"Personal experiences and narratives are beautifully woven into the reflections to make the text come alive. Rabbi Ilana builds connections by reaching out to others across the aisle, when it matters most. Deeply personal and moving!
– Tasneem Noor, Author of The Faith Connector, Program Director of NewGround - A Muslim-Jewish Partnership for Change
"In The Viral Spread of Hope, Rabbi Ilana Grinblat teaches us how we can turn fear into faith. In a voice of wisdom and insight, she shows how every Torah portion can be a timeless for the challenges we face each day. This is a volume that leads us to light, freedom, healing, courage, resistance, and of course, to hope. Every soul who reads this book will surely be inspired and uplifted."
- Rabbi Naomi Levy, author of Einstein and the Rabbi, founder of Nashuva
"Rabbi Ilana Grinblat courageously shares herself on every page of this book. Tackling the cataclysmic changes of our day, she breathes new life into moments of suffering and loss with the wisdom of the Torah as a foundation. She offers a source of healing and strength for us all."
– Rabbi Joshua Hoffman, author of The Holiness of Doubt, President, Board of Rabbis of Southern California
To purchase this book CLICK HERE.